Bunting fluttered, conversations flowed, and Arran artworks found new homes. Arran Open Studios 2023 has been and gone. Here our writer Emily Rose Mawson reports on a wonderful weekend of art.
"If anyone is interested and can get to the Arran Open Studios event, it is really wonderful," reads one comment on social media. Another reports on "the privilege of seeing some amazing artwork". The fact is, for anyone on Arran during the Arran Open Studios weekend in August, you simply can't avoid art – and it's marvellous. The sun is shining, bunting is fluttering on street corners, signs are pointing the way to more than 35 studios – artists, jewellers, sculptors, weavers and glassmakers, among others (many of which are open exclusively for the event), and village halls are filled with creations by independent makers.
On the first afternoon of the weekend, I drive to the northeastern-most tip of the island, where weaver Tessa Smith's studio, in an 18th-century cottage on the headland above Lochranza, is bustling. When I arrive, Tessa has just sold a piece and is busy welcoming a couple from Warwick, who were inspired to visit after seeing an open studios event back home. I glance around, my eye falling on a detailed pattern in progress on the loom. There's dried seaweed hanging from the window frame, shelves full of colourful yarn bobbins, baskets of freshly shorn wool, and scarves dangling from hat stands.
I listen as Tessa explains her process: she does two types of weaving – traditional work on the loom and tapestry weaving, "which is more like painting". Her work is entirely hand spun and naturally dyed, using plant dyes from her garden or Lochranza community garden – "all island colours" – and she works with Scottish wool, mainly alpaca from Arran Alpacas in Shiskine. It's so soft you could cuddle up in it. This is her raw material. Then starts the process of spinning, carding and weaving. "I love experimenting, but I also enjoy the structure of patterns," explains Tessa. She contrasts the detailed pattern being worked on the loom against a "random" pattern that evolved organically. "When you weave a mixed wool in a plain weave, it makes its own pattern and to me, that's very exciting," says Tessa.
Next door, in the beamed-ceilinged sitting room, freshly brewed coffee sits on a side table and cosy uplighting illuminates the work of Tessa's husband Gus, a painter. "I'm going to start a painting today," he tells me as I admire his mixed media Drumadoon Cliffs, a painting that Tessa won't let him sell. "Right in the middle of Open Studios?" I ask. "I'm in a painting frame of mind," he smiles. His work is diverse, ranging from swirly seascapes in acrylic and moulding paste to delicate still lifes in pastel. An easel holds the lightning sketch he is going to turn into a painting today – of Dunadd Fort in Kilmartin Glen. "The real Dunadd Fort is 'softer' than in my sketch," he says, showing me a photo of the Iron Age hill fort. "I want it to look deeper, more dramatic."
He's telling me that he likes to paint based on sketches made outdoors, when more visitors arrive. "Come in, come in," he says, and I take my leave as the next Arran Open Studios visitors cast admiring glances around the space.
As I drive around the island, popping into studios that take my fancy – you can easily tour the island in a weekend – there's a vibrant sense of art being everywhere. Zabdi Keen, a sculptor and environmental artist based in Kildonan, tells me that she has set up a rope trail leading to some outdoor sculptures. "I also displayed things in and outside the caravan, and in a World War II bunker at the bottom of the garden. I sculpted some quick sketch live portraits of some of the visitors and took photos to further develop the pieces," she says.
She adds how nice it has been to meet a variety of visitors – from the UK, Israel, Spain, France and Canada, as well as a lot of Arran people. It's the same for Faye Waterlow, a watercolour artist based in Brodick. "Arran Open Studios has attracted so many diverse visitors, art enthusiasts and curious minds to my little studio," she says. "There have been so many conversations and connections. Visitors have spoken about the joy of gaining insight into the artistic process, and have enjoyed the opportunity to take home unique and inspiring artwork."
Above – Visitors to Faye Waterloo's studio
Maisy O'Neill (Maisy Alice Art) from Kildonan also highlights how lovely it has been to see her work flying the nest. "One piece will be arriving at its new home via plane which is extremely exciting! I also had a lady who remembered me from my first Open studios when I was a very shy 17-year-old," she says.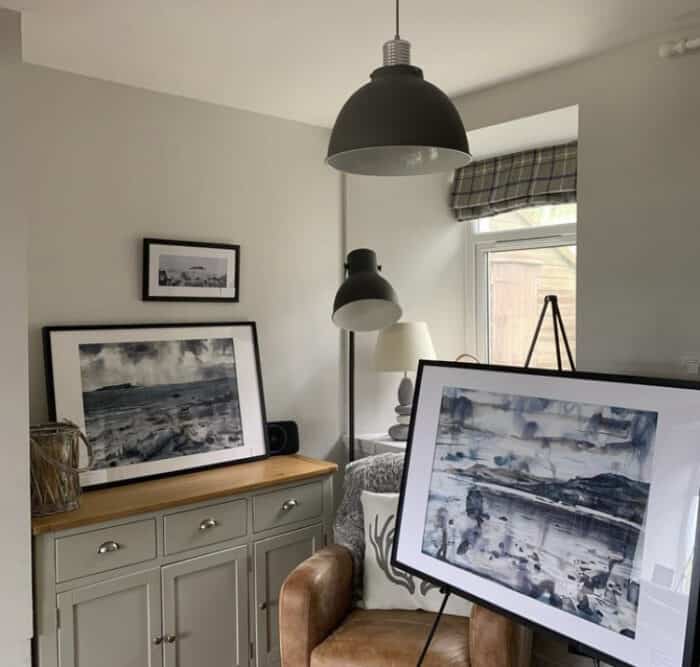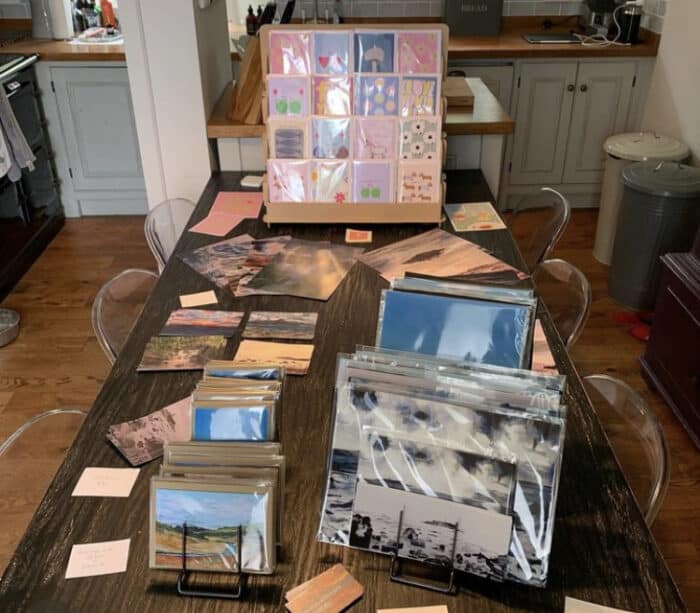 Above- Maisy's studio set up for visitors during the weekend
Later in the weekend, I wander up the sun-dappled lane to Sannox Christian Centre. After torrential gales all morning, the sweeps and curves of the Sannox mountains that backdrop the 18th-century church are now polished gold. At the top of the lane, there's a sunny green where a group is gathered on a bench, and beside the church, a cottage. Inside, the scene is equally welcoming: art lines the walls, there's talk of Irish stew being served, and three artists are preparing for their workshops.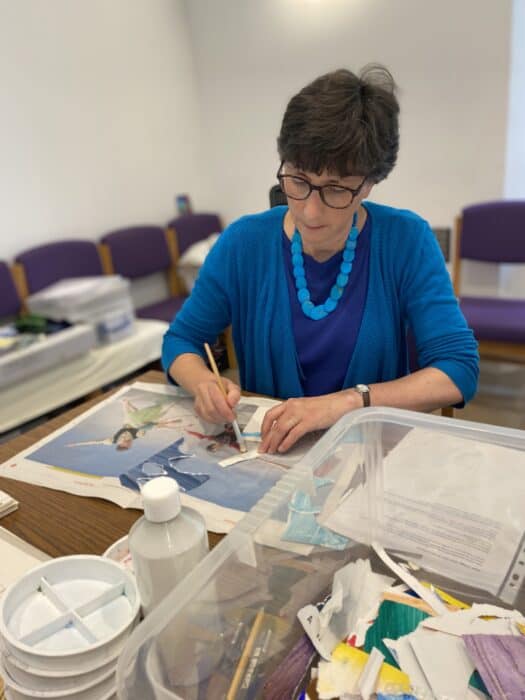 Glass artist Emma Butler Cole-Aiken is teaching collage, both glass and paper. Her own portfolio is exquisite – including a wonderful stained glass window for Glasgow Cathedral – and today she is encircled by light boxes and tubs full of pre-cut glass in a rainbow of hues. All sorts of different people have booked to participate, including children, and what's brilliant, she says, is that you don't need any artistic experience – especially for paper collage, which she's teaching when I visit. I watch as she tears beautiful paper – Venetian marbled, as well as her own watercolours – and glues it onto a cardboard bookmark. Layer upon layer, her eye deciding what works and doesn't, until an image appears that reminds me of the ocean lapping onto the sandy beach near the church. "Just enjoy it, and don't take it too seriously," she advises.
In another workshop, there's a similarly playful approach to art: this one, mixed media taught by Pam Hamilton, who uses a heat gun to "zap" all sorts of materials – everything from ice cream wrappers to fruit nets and shimmery fibres. The effect of the heat transforms the materials in seconds – it's sort of chemistry meets collage. And over in the nook, where a lamp throws golden light across armchairs and a vase of fresh flowers sits on a table, the Albanach Knitter, Andrew, is hosting a knitting workshop. Beginners' Fair Isle creations are taking shape, and everyone is smiling and chatting.
We couldn't finish on a better note than this: "It's been a lovely event. Just being able to pop in and see where the artists live and work is amazing. We love Arran Open Studios," commented one visitor to Zabdi Keen's studio. Until next year!
Can't wait until next year's Arran Open Studios?
The date for next year's Arran Open Studios is still TBC, but in the meantime, why not follow Arran Art Trail? It is open year-round, featuring a selection of art studios. (www.arranarttrail.com)