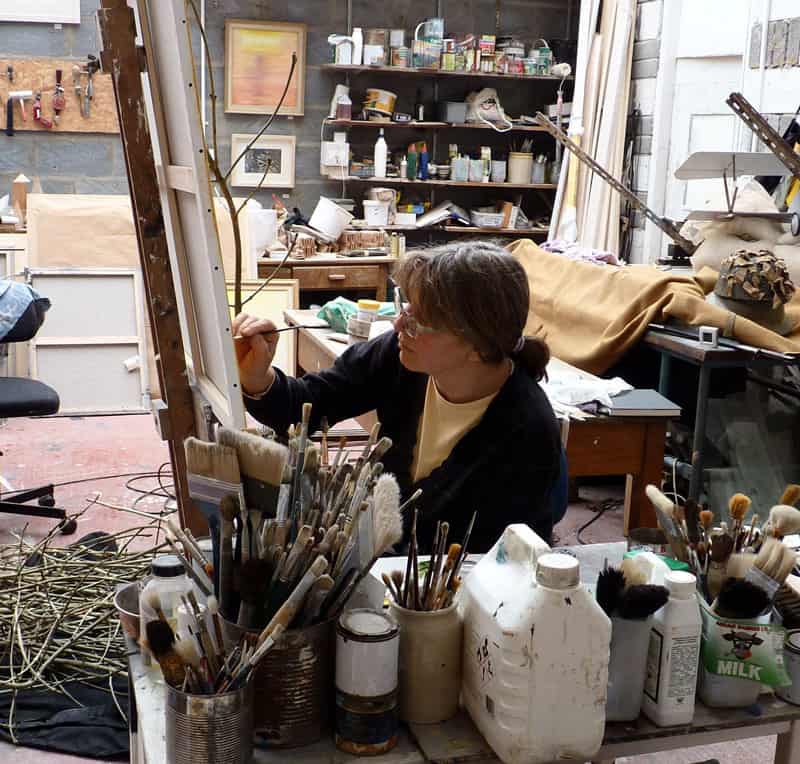 I make oil painting and screen prints. The theme is plants and flowers.
Josephine trained first in Rotterdam and completed her training in Gray's in Aberdeen. She is the granddaughter of Matthias Hage who painted in Laren in Holland from the 1920s to the 1950s. She is a direct blood relation of the C 19th Dutch painters the Maris Brothers.
She is a past first-prizewinner of the Aberdeen Artists Award and has exhibited extensively throughout Scotland in private galleries as well as the RSA, SSA, RSW and RGI. Her current main representative is the McGill Duncan Gallery in Castle Douglas but many of her most recent pictures can be seen here at the hive of activity that is Whiterock Studio.
Her paintings are still-life or landscape-based with the emphasis on the 'based'. They are rarely exact representations and sometimes the altered perspectives and gentle surrealism with which she treats them is as much a key to their meaning as the subjects themselves. Effectively, there is always more to them than simply meets the eye. A recent branch of her oeuvre (no pun intended), has seen her paint twigs and branches with a forensic exactitude that makes the subjects far more than the garden cuttings on which they are based. She says 'I like the colours, textures and shapes I find in plants and flowers. I compose with them using oil paint which I think has the most luminosity. I use the flowers and plants as an inspiration rather than try to represent them accurately.'
She is a great printmaker too and her lino cuts and etchings will also be on display.
Location
Directions:
Whiterock, Lamlash, KA27 8NL

Parking at the house for wheelchair/less-abled access only.

Between the Heights and Alt Ardoch, approx 0.8 miles south of the Mustard Factory, going towards Kingscross. Layby on the main road for parking, Whiterock track is opposite layby. Approx 60 yard walk from the main road to studio.
Facilities:
Parking available
Purchase with credit/debit cards
Toilet facilties
Wheelchair access
Opening hours:
Fri, Sat, Sun, Mon: 10:00am - 4:00pm