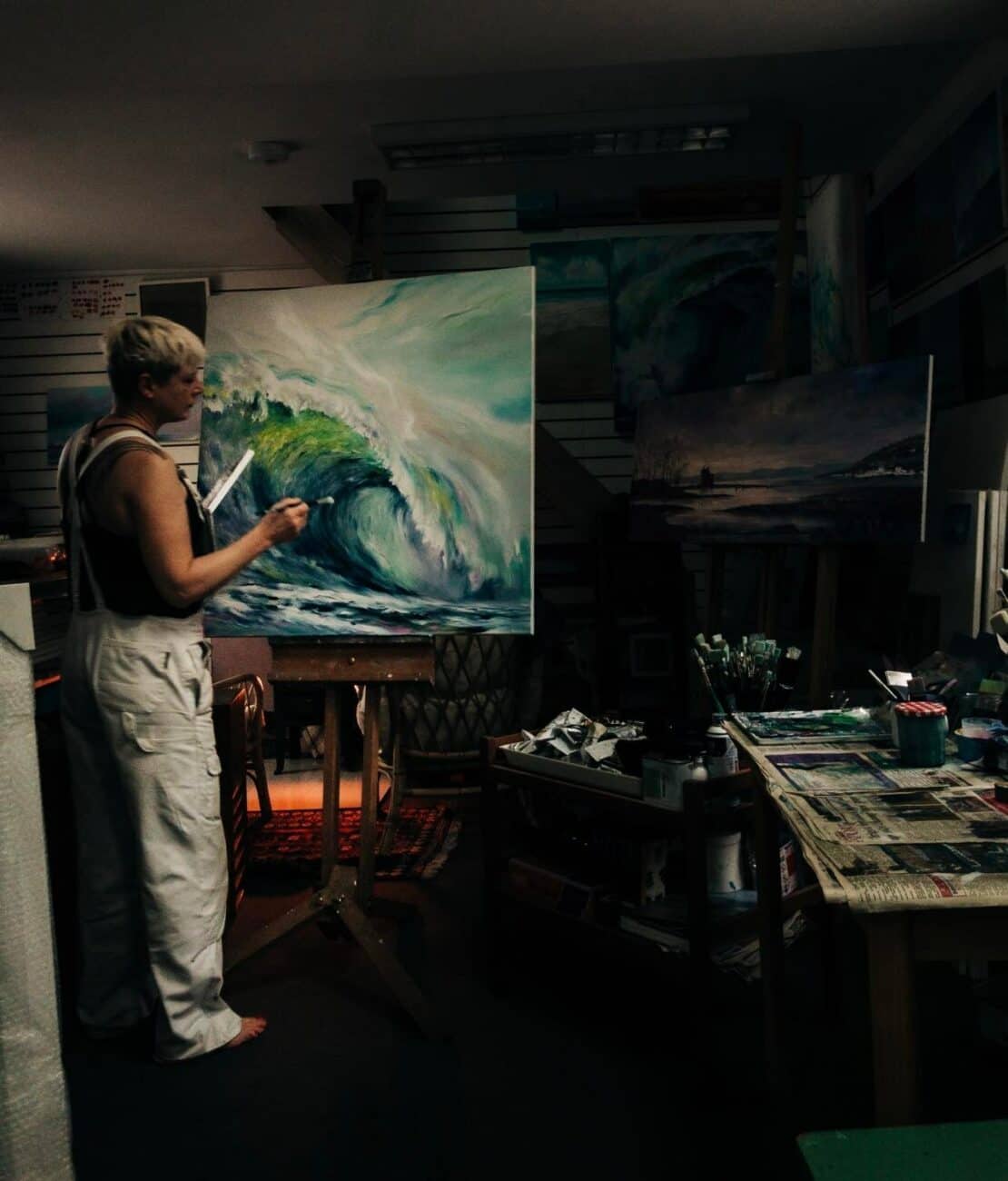 Connect with the artist:
Studio of contemporary seascape artist Senja Brendon. Working in the rear of the gallery space, Senja will be creating her large crashing waves, seascapes and local Arran scenes. Original paintings, limited edition prints, ceramics, jewellery and cards are all available.
Having surfed, sailed and kayaked over many years, Senja has a deep emotional connection to, and understanding of, the sea. She is passionate about the ocean and has a healthy respect for its many moods.  Her paintings may take you on a quiet wander along a peaceful beach or plunge you shamelessly into the heart of crashing waves.
Each painting is created lovingly in a traditional manner, using 'plein air' oil studies and real location sketches. Senja travels the Scottish coastline in her mobile studio/campervan and relishes the dramatic light that our varied weather provides. Huge skies and stormy seas are a regular feature in her work.
Sizes range from 5cm miniatures to bespoke canvases of several metres and limited edition prints are also available.
Represented by galleries across the country, Senja has a loyal following of lovers of Scotland, art and the sea.
Location
Directions:
Saltwater Studio and Gallery
Cladach, Brodick, KA27 8DE

Head north through Brodick and follow the signs for the Arran Brewery. We are right next door, tucked in behind the Wineport bar/restaurant and opposite the main Goatfell path.
Facilities:
Parking available
Purchase with credit/debit cards
Wheelchair access
Opening hours:
Fri, Sat, Sun, Mon: 10:00am - 5:00pm