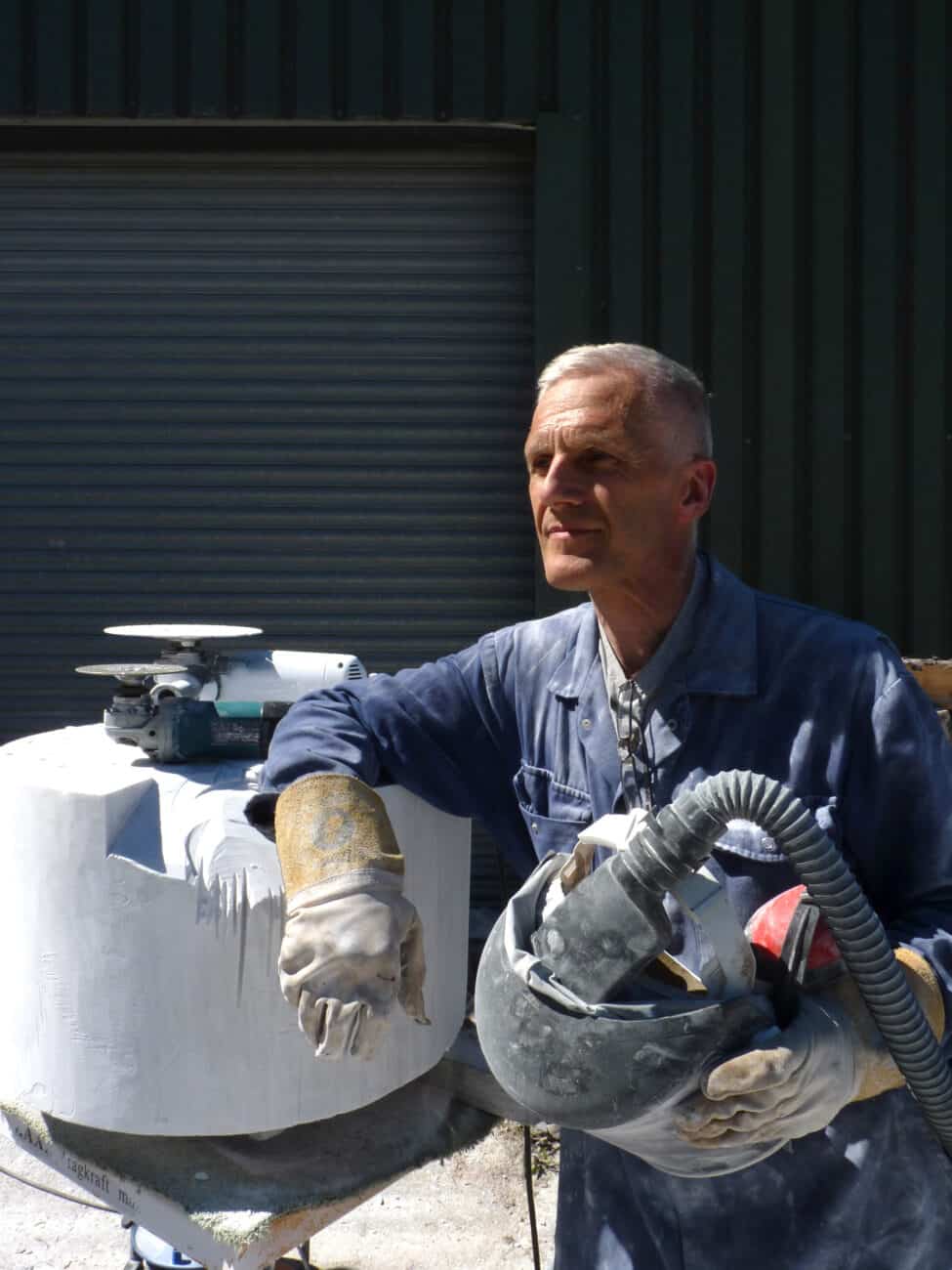 Connect with the artist:
Tim Pomeroy is one of the most thoughtful and respected artist carvers of his generation: his sculptures in stone, wood, drawings and etchings evoke notions of power and the Sacred inspired by archaeology and the natural world.

This year he has created woodland walks and has placed sculptures in the landscape.
Tim's recent sculptures have been inspired by archaeological finds, by designed everyday objects and by natural/organic forms. A seed head can as much inspire monumentality in stone or bronze as a screw-head.
While many of Tim's sculptures, etchings and drawings are in the gallery representing him in London, the Fine Art Society, there are still many versions to be seen at the picturesque studio location above Lamlash.
Tim trained as a painter and taught painting at Grays School of Art, Aberdeen. And while he is better now known for his sculptures, there will still be many two-dimensional works on display. His public commissions feature in Chatsworth Ho., Cawdor Castle gardens, Provand's Lordship Glasgow, St Andrews RC Cathedral Glasgow, The Beatson Institute, The Esme Fairbairn Foundation to mention but a few.
Location
Directions:
Whiterock, Lamlash, KA27 8NL

Parking at the house for wheelchair/less-able access only.
We regret that the woodland walk is not wheelchair accessible.

Between the Heights and Alt Ardoch, approx 0.8 miles south of the Mustard Factory, going towards Kingscross. Layby on the main road for parking, Whiterock track is opposite layby. Approx 60 yard walk from the main road to studio.
Facilities:
Parking available
Purchase with credit/debit cards
Toilet facilties
Wheelchair access
Opening hours:
Fri, Sat, Sun, Mon: 10:00am - 4:00pm