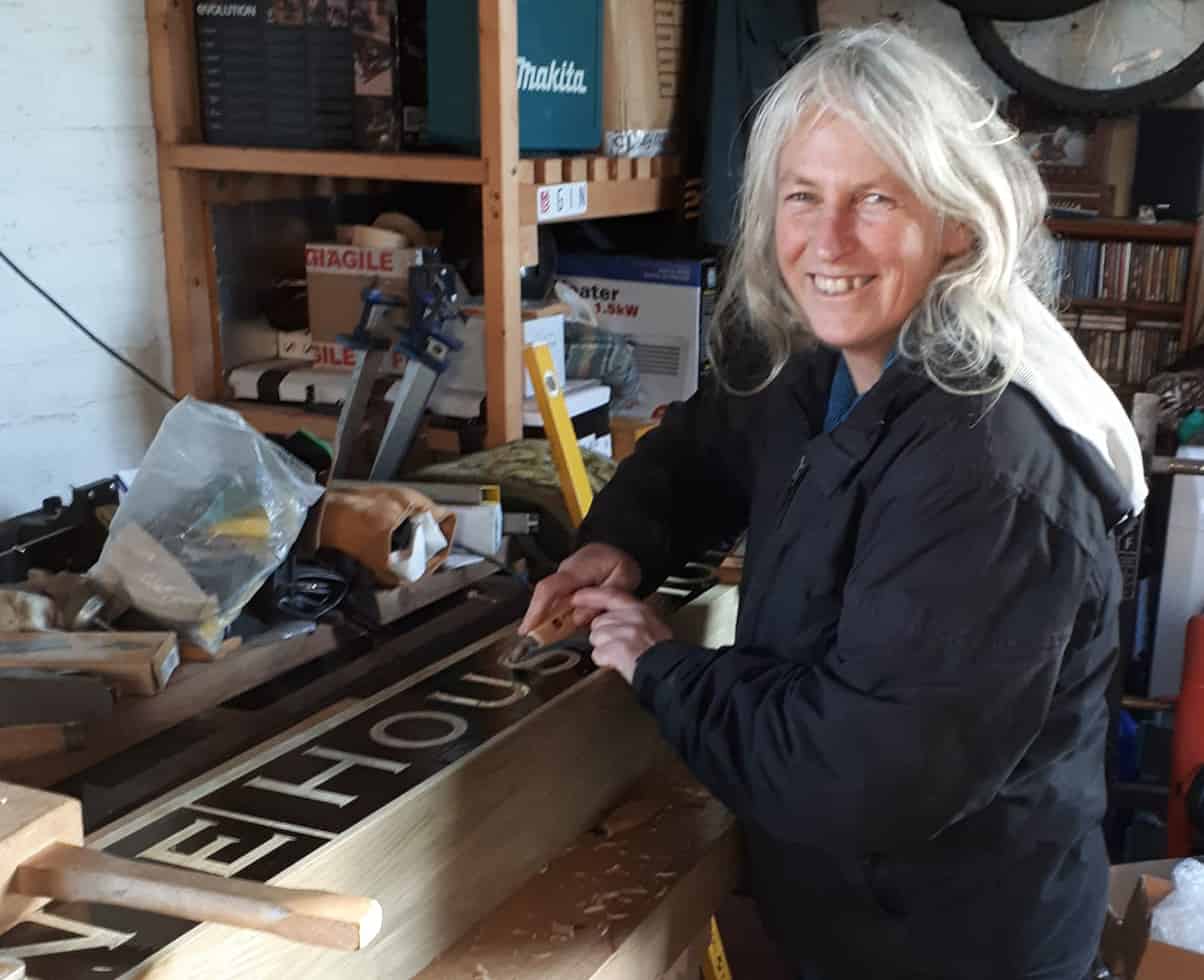 Connect with the artist:
Zabdi Keen is a Sculptor & environmental artist working using traditional wood and stone carving methods incorporating mixed media to create sculptures. She carves lettering in wood and stone, Pyrography, charcoal and airbrush pictures and jewellery from Arran Whisky Barrels.

There is a WW2 pillbox bunker in my garden at No 2 Coastguard House that I will use as a small gallery space to display my sculptures during the Open Studio event.
I collect interesting driftwood, stones and salvage items then combine them to create unique one off contemporary sculptures that cannot be replicated.
I walk past the wood or stone for a while and leave them stacked up around trying to see what shape they suggest.  Then suddenly I see it!  The finished piece allows the viewer to participate in the discovery process as the carving is not immediately obvious but becomes apparent when observed.  I like to remove the minimum amount from the material to bring the vision I see to life whilst respecting the inspiration brought from the material.  I also enjoy the discipline of letter carving and commissions.
I like to explore new things and this year I have been on a chainsaw course and am learning chainsaw carving as I like to work on large outdoor sculptures.  I have also started working in clay as it is quicker to sculpt the piece and change things to decide and plan how I will create the 3 dimensional image that I see suggested in the wood or stone.
I started wood carving when I was a child, then ran a paragliding school for 28 years travelling the world gathering ideas and flying with a sketchbook in my harness and carving on and off through the years.    Since 2020 I have been working full time as an airbrush artist and sculptor of stone and wood, mainly working on commissions.
Location
Directions:
No 2 Coastguard House, Kildonan, KA27 8SD

Park beside the benches and the steps to Silversands beach. Walk 1 min
along the main road towards Whiting Bay turn right to Wee Gallery and
immediate right. My studio is at the bottom of the track I often work
outside or in the poly tunnel.
Facilities:
Parking available
Opening hours:
Fri, Sat, Sun, Mon: 11:00am - 4:00pm